Treat yourself to the classic peppermint tea and experience the unique, refreshing taste of peppermint. With all my teas' gourmet peppermint, you'll be delighted by its superior flavor. Enjoy your peppermint tea hot or cold and savor the light aroma that has been around since ancient Greece and Rome. Experience a little bit of history with peppermint tea, and discover why this decaf delight has been a staple of celebrations for centuries. Let all my teas transport you back in time with the classic peppermint flavor that's sure to please.
Enjoy your peppermint tea today and experience a timeless flavor like no other!
Happy sipping!
This is a decaf tea | Steep at 212° for 5-10 minutes.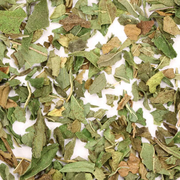 Peppermint